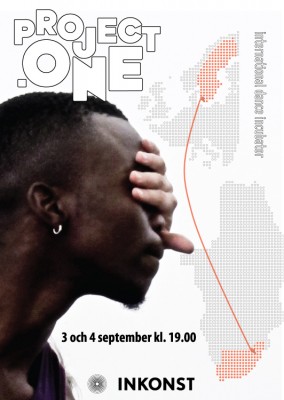 Project One: an international incubator for new choreographers.
This was a collaboration between Danscentrum Syd, Sweden and Moving into Dance Mophatong, South Africa.
Four new choreographers were collaborating in the creation of a dance piece. The goal was to provide good conditions (producer, studio, marketing, mentor) to create a dance performance that showed high artistic quality and which also demonstrated the specific power in collaboration practice and the meeting between four individuals and two cultures.
Two South African and two Swedish choreographers meet, work and create a dance piece for stage.
The incubator means conditions, context, support and mentorship during the artistic process and implementation in the close cooperation and exchange between four individuals and two cultures from opposite sides of the globe.
After preparations on a distance follows studio work, creation and public showings in Johannesburg in July. Thereafter continued creation work in Malmoe in August leading towards a youth workshop/showing at Drömmarnas Hus and finally premiere of finished piece at
Inkonst, Malmö September 3. & 4.
The project was undertaken during June-September 2013 with the dance artists and choreographers Christine Brorsson, Jonas Örknér, Thenjiwe Soxokoshe and Edwin Ramoba
Project leader: Malin Astner